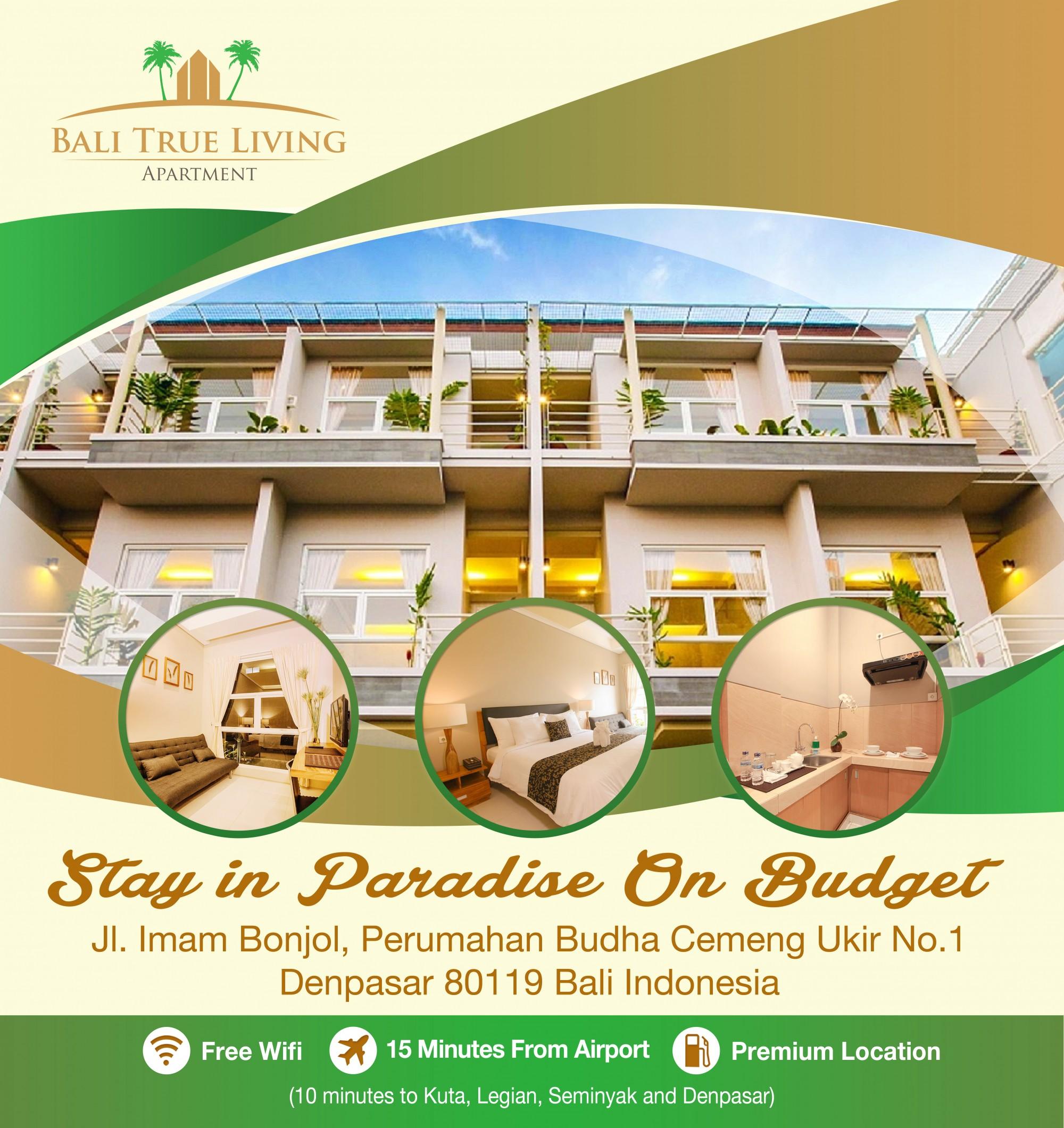 Bali True Living Apartment is the most modern Bali long term rental, conveniently located at the heart of the central business districts, Denpasar and Kuta, and the top tourist destinations, Seminyak and Legian. Representing the height of modern luxurious living, Bali True Living Apartment is perfect for all purposes, whether for work or play, and suitable for all occasions.
Bali True Living Apartment is at a 15 minute drive from the Ngurah Rai International Airport and offers an easy access to Sunset Road, Kuta Beach, Denpasar Balinese Downtown, Legian Famous Tourist Street, as well as the popular Seminyak Expatriate area.
The ultra-luxurious Bali long term rental offers 16 private suites, all styled with the most exquisite blend of both Western and Asian interior design. The private balconies are well lit by direct sunlight and are surrounded by lush tropical gardens with the most gorgeous lotus pools. The apartments contain well equipped modern gourmet kitchens and ultra-modern air-conditioned bedrooms each with a private ensuite bathroom furnished with all amenities.
The 16 private suites available at the Bali True Living Apartment, classified into four specialty suites –
Premier Suite – Premier Suite is a first level suite that overlooks a most peaceful lily garden, which is furnished with exquisitely designed handmade furniture made from the finest teak wood. The Premier Suite is a 28 square-meter studio bedroom which comes with a queen sized bed, a majestic sofa bed as well as intricately crafted traditional Balinese fabrics & handicrafts. The ambience around here is traditional and yet distinctly modern.
Executive Suite – Executive Suit is a second level suite which offers the calming view of a tranquil tropical garden from the balcony, has exotically designed handmade furniture made from teak wood in natural tones. This 33 square-meter studio bedroom has a large queen size bed, a huge sofa bed, and the loveliest handcrafted traditional Balinese fabrics and handicrafts. It combines modernity with tradition in a style that is distinctly identified with the best that Bali has to offer.
Master Suite – The Master Suite is a third level suite which offers the loveliest view of a most beautiful lotus pond from the balcony. It has been styled with panache, with high ceilings and oversized windows. This 33 square-meter studio bedroom comes with a queen size bed, and a large sofa bed. The Master Suite is decorated with the finest local handcrafted fabrics and other products. It combines power with grace.
Royal Suite – The Royal Suite is the best that Bali True Living Apartment has to offer. It was once a private residence but is now open to guests. The Royal Suite is an enchanting two-bedroom apartment which blends a white wash style with natural teak wood interior. It consists of a spacious private entertainment area, a dedicated service to fulfill very whim and fancy and a beautiful in-room terrace. The two 120 square-meter bedrooms have king size beds, large sofa beds and lovingly crafted handcrafted ornaments – which makes it a perfect place to lounge with friends, family or important business associates.
Services & Facilities
Bali True Living Apartment has been specifically designed as a cost effective accommodation for short term & long term travelers. This exquisite Bali long term rental is fully secured by CCTV and 24 hour security and offers more than adequate storage space for surfboards, backpacks or for that matter, any bulky luggage.
Guests may check in with friends and family back home using the computer terminal set up in the reception that comes with complimentary internet access. Guests are served breakfast on the terrace, with a perfect view of the streets of Jalan Legian. Cold beer and snacks are served in the evening till late at night.
A professional laundry service is available as well for a nominal fee. Airport transfers are offered to guests at USD18 per car (max 4 persons) /one way.
Terms & Conditions
The check in time at the Bali True Living Apartment is 14:00 and check out time is 11:00 noon. No more than 2 persons are permitted in a room. 3 persons can be accommodated in triple rooms. Payments can be made by the following Credit Cards: Master, Visa, Amex and JCB.
We look forward to your company at the Bali True Living Apartment. You may make your reservations [here]. Call us at +62 (361) 9376012 / +6281999010109 or email cs@balitrueliving.com to know more.
Check all the rooms and prices here